The Fair Food Program is a market-backed, worker-driven social responsibility program that protects and promotes the human rights of farmworkers in America.
The Program is a unique, award-winning partnership that has created better working conditions for farmworkers, reduced risk and turnover for Participating Growers, and delivered unparalleled, data-backed human rights assurances for Participating Buyers.
Introducing FFP-Certified Packaged Food!
In June 2022, we proudly announced the expansion of the Fair Food Program to include Consumer Packaged Goods (CPG), the category of food that includes things like soups or other pre-packaged foods that incorporate ingredients like fresh tomatoes. Our first partner is the dynamic soup company Soupergirl! Watch the announcement video and read more below.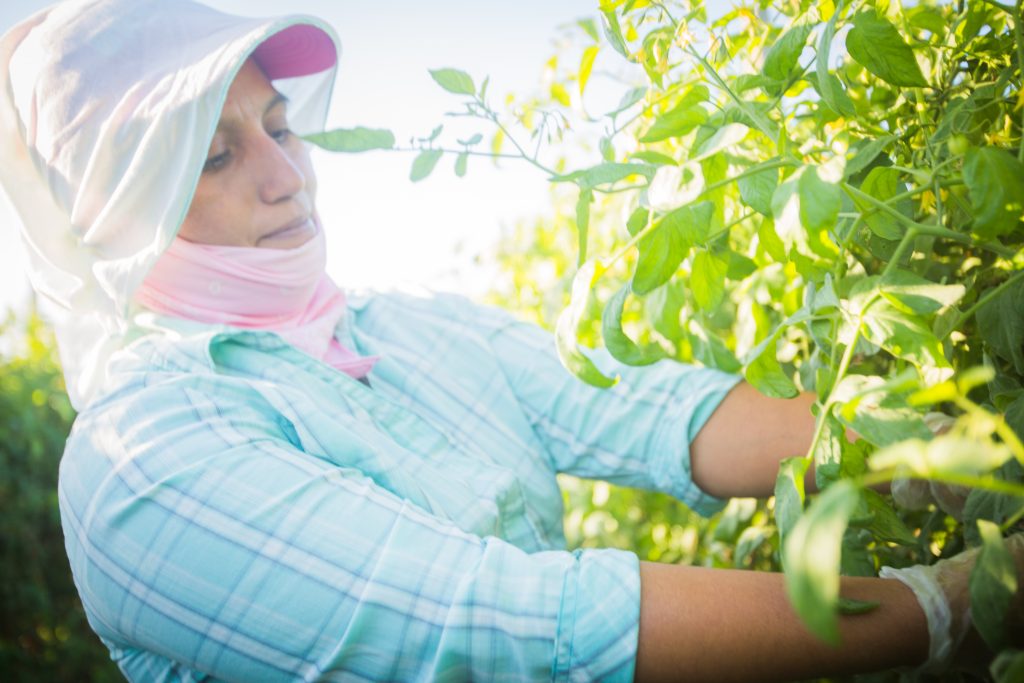 The Fair Food Program harnesses the power of the market, allowing retail food companies (Participating Buyers) to guarantee real human rights protections for farmworkers in their supply chains. Participating Growers gain purchasing preference with Participating Buyers, and agree to collaborate with the Fair Food Standards Council, the independent monitor that enforces the Program's standards.
Workers enjoy safer, fairer, healthier working conditions. In the Fair Food Program, farmworkers work free from the many longstanding abuses typical of farm labor in the US, including forced labor, sexual assault, and violence. Enhanced protections from COVID-19 and heat stress illnesses are also embedded into the Program.
Buyers gain unprecedented visibility into labor conditions in their supply chain, and can confidently assure consumers and shareholders that their social responsibility efforts are best-in-class when it comes to workers' human rights.
Growers secure purchasing preference with Participating Buyers, reduced turnover as they become employers of choice, enhancements to their internal record-keeping and HR systems, and risk reduction for DOL and EEOC investigations.
WHAT SETS THE FAIR FOOD PROGRAM APART?
The Fair Food Program's model of Worker-driven Social Responsibility has been called the new "gold standard" when it comes to protecting human rights in supply chains. Key elements include:
Binding Fair Food Agreements with buyers that create both incentives for growers to comply with the Program's standards and real market consequences for violations.
A worker-developed Fair Food Code of Conduct tailored to the realities of the agricultural workplace.
On-farm, worker-to-worker education that empowers workers to take the lead on their rights and responsibilities without fear of retaliation.
Dedicated third-party monitoring of the Fair Food Standards Council, including a 24/7, trilingual complaint hotline staffed by trained investigators, and deep-dive field and farm office audits.
Corrective Action Plans that help growers fix problems when they arise and prevent them from happening in the future.
worker complaints resolved through the Fair Food Program
worker-to-worker education sessions conducted on Fair Food Program farms
violations uncovered in FFP audits and addressedby growers
Class Action Lawsuits,
Department of Labor cases,
or EEOC cases
of workers informed of their rights, with access to best in class complaint process, protected from retaliation
FREQUENTLY ASKED QUESTIONS
The FFP works as a partnership. 
The Fair Food Program's Participating Buyers (PBs) are retail food giants and foodservice companies, including Compass Group, Walmart, Whole Foods, Subway and McDonald's. 
PBs agree to pay a small premium to Participating Growers (PGs) to be passed on to workers as a bonus in their paychecks, (PGs receive a small percentage for administrative costs), and to purchase from PGs that are in compliance with the Program's Code of Conduct, as certified by the Fair Food Standards Council.
Participating Buyers benefit from membership in the Fair Food Program in three important ways:
A transformative approach to social responsibility that addresses the roots of some of the toughest problems in agricultural supply chains. The Fair Food Program model of social responsibility ensures real results for our  Participating Buyer partners that they can be proud to share with customers and shareholders. 
A more secure and reliable supply chain. The collaborative and proactive independent monitoring of the Program gives Participating Buyers the peace of mind that Fair Food Program farms are free from human rights abuses and measurably safer and healthier for workers. 
Insight and transparency. Because of the dedicated third-party monitoring of the Fair Food Standards Council, Participating Buyers can feel confident and empowered about the conditions on Fair Food Program farms. 
We are excited for you to join the 14 other Participating Buyers in the Program. The first step to joining is to set up a conversation with our team! 
A "visionary strategy... with potential to transform workplace environments across the global supply chain."
"One of the most important social-impact success stories of the past century"
"There is ample evidence-based research that demonstrates social audits, as they are currently administered, are ineffective in identifying and reducing forced labor. Instead, more investment should be made in worker-driven solutions. Examples of how this can be achieved are the Fair Food Program and Bangladesh Accord."
The Fair Food Program "is something every grower and food retailer should be a part of. The program's success is absolutely undeniable."
"The Fair Food Program is giving us structure and is a tool for a better understanding in a workplace that is multicultural and multiracial. It is a little contribution for a humanity that is more inclusive and respectful."
We've created a condensed version of this information in a downloadable PDF brochure. Click here to get a copy for your records and to spread the word!